Current Location: Home > About Us > Company Profiles

LEONIS Cinema is a national high-tech enterprise focusing on digital audio and video technology research and related product development.
Main products involve in content production, content transmission, and content exhibition. The products are divided into four major sections: 3D video technology, 3D audio technology, satellite/network transmission, and digital cinema quality management system QMS. Specifically includes light doubler polarization 3D system, polarization modulator 3D system, immersive audio authoring system, immersive audio rendering system (including immersive audio processor, immersive audio digital-to-analog converter, immersive audio digital surround power amplifier), digital cinema DCP satellite receiver, digital cinema projection quality management system, etc.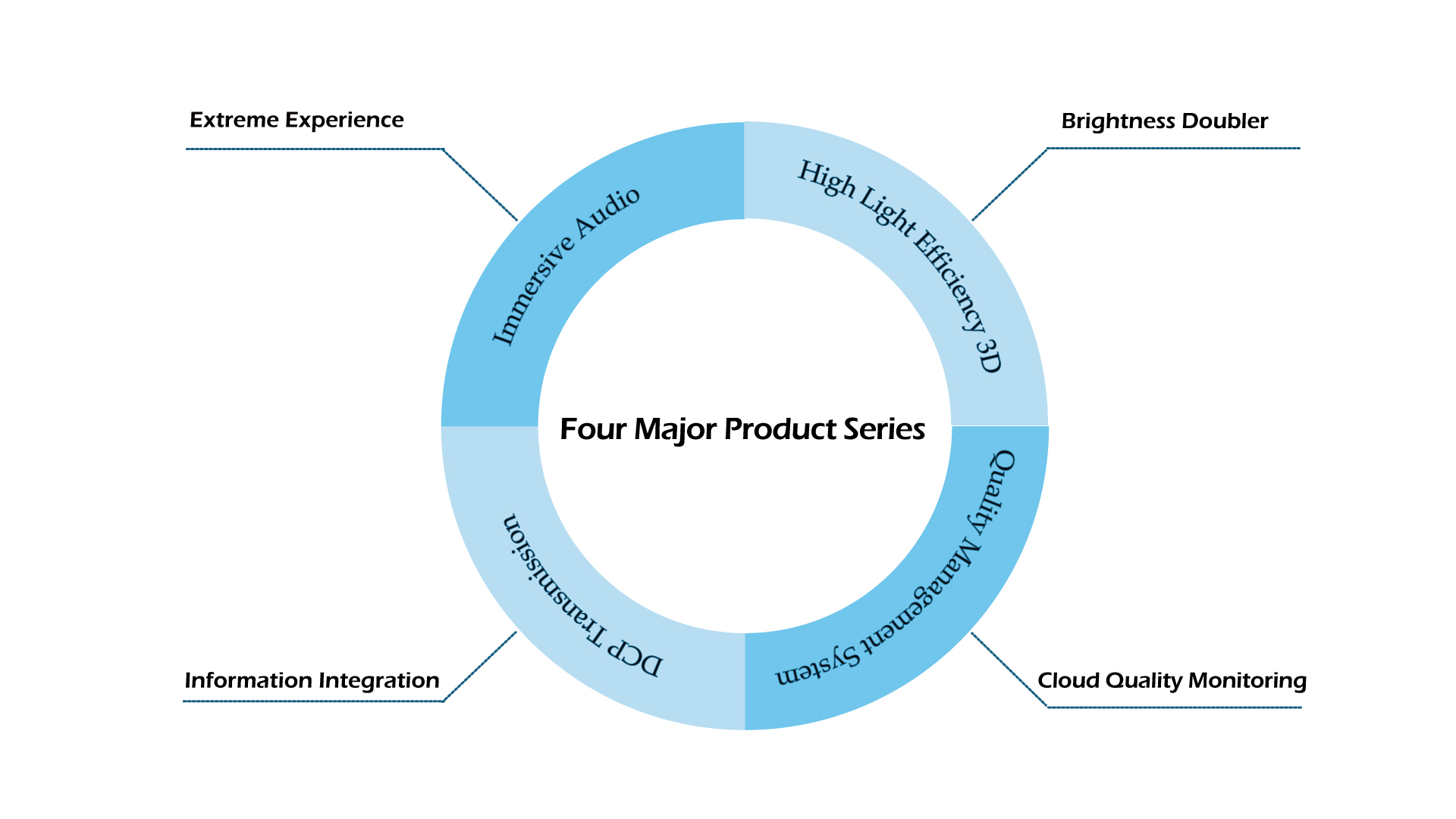 Our immersive audio HOLOSOUND project has received government support as a demonstration project for the international development of Zhongguancun; light doubler technology has received special government funding support as a demonstration project for the design capital of the Beijing Municipal Science and Technology Commission; and digital cinema projection quality monitoring equipment LLAS-100 has been awarded SARFT's Film Technology Application Achievement Award. In addition, we are also SMPTE members, AES members, directors of the China Film Distribution and Exhibition Association, directors of the Beijing Film Association, members of the China Entertainment Technology Association, and members of Chinese Association of Natural Science Museums. At the same time, the company has passed ISO quality management system certification.
Our 3D systems have passed Disney certification and passed the certification of CRIFST. The light doubler polarized 3D system has a light efficiency of more than 34%, and has the largest market share in China.
The light and sound sensor LLAS-200 has been adopted by all Wanda Cinemas and has been fully deployed in Hebei Province. At the same time, Taihe, Shangying, Hengdian and other cinemas are also being installed and applied one by one. This product is the only projection quality monitoring product that has passed authoritative certification.
Currently, HOLOSOUND, our immersive audio technology, has passed the expert listening test organized by the Film Distribution and Exhibition Association, and has been well received by the participating experts.

As the only company with both immersive video technology and immersive audio technology around the world, LEONIS has cooperated with more than 30 cinema chains and cinema investment companies across the country, including Wanda, CFG, SFG, Jinyi, Dadi£¨Hengdian, Oscar, Poly, Bona, Jiahe, Xiaoxiang, Huayi, etc. At the same time the products are exported to Germany, Russia, Ukraine, Sri Lanka, Singapore, India, Iran, Vietnam, Hong Kong and other countries and regions.
In addition, CAS & LEONIS Digital Cinema Joint Lab, the laboratory jointly established by the Chinese Academy of Sciences and Leonis Cinema was officially opened in early 2016. The establishment of the laboratory aims to integrate technical resources and industry resources, develop international digital cinema cutting-edge technology, promote the technological innovation of digital cinema industry.